European Technical Assessments(ETA)& TZUS
√ What are European Technical Assessments?
European Technical Assessments (previously called European Technical Approval) follow procedures set out in the Construction Products Regulation (CPR) and give product manufacturers an alternative voluntary route to CE marking if their products are not covered by harmonized EN standards.
√ Do I need European Technical Assessment - is my product covered by a harmonized standard?
Harmonized standards are those developed by a recognized European Standards organization, following a request from the European Commission. References for these standards must be published in the Official Journal of the European Union.
If your product follows CPR procedures but not to the specific requirements of one of the Harmonized Standards, you can still trade your construction product within the EU by achieving CE marking through European Technical Assessments (ETA's) if the product is covered by existing European Assessment Document (EADs).
√ European Technical Assessment and the Construction industry
In the field of construction, the Construction Products Regulation states that removing technical barriers in the field of construction may only be achieved by creating harmonized technical specifications to assess the performance of construction products.
Those harmonized technical specifications should include testing, calculation and other means; but they accept that they can be defined within either Harmonized Standards, or, the European Assessment Documents used during European Technical Assessment for assessing performance in relation to the essential mandated characteristics of construction products.
√ European Assessment Documents (EADs) and Technical Assessment Bodies (TABs)
Like Harmonized Standards, European Assessment Documents (EADs) are harmonized technical specifications that provide consistency in the product type assessment method for all EU member states.
If a product is completely new and thus never been assessed before, a Technical Assessment Body (TAB) will be required to create an EAD. Technical experts may also assist product manufacturers in determining if an applicable EAD already exists. Once the European Commission adopts an EAD, a TAB will then also be required to assess a manufacturer''''s product range against it - and only at that point can the European Technical Assessment (ETA) be issued.
√ Why TZUS for your European Technical Assessment?
TZUS is also an active member within Europe in the development of harmonized EN standards and European Assessment Documents for a wide range of other products, such as doors, windows, glass and hardware, to name a few.
As a Technical Assessment Body (TAB) and member of the European Organisation for Technical Assessment (EOTA), Element Materials Technology Rotterdam B.V. can initiate or participate in writing European Assessment Documents (EADs) for truly novel products that have not been assessed before.
A Notified Certification Body can also audit a manufacturer''''s production site against the requirements of an ETA and CE mark the product made there.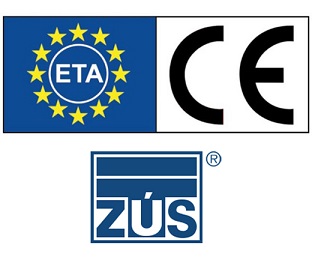 TZUS(NB1020)
http://www.cprce.com/Certification/eta/919.html
EOTA members
Czech Republic TZUS&CSI, Slovak Republic TSUS, Austria OIB, Belgium BUTGA, Cyprus PWD, Denmark ETA-DANMARK, Estonia TUT, Finland VTT, France CSTB&SETRA, Germany DIBt, Greece ELOT, Hungary EMI, Iceland NMI, Italy STC&CSEA, Lithuania SPSC, Luxembourg PCH, Netherlands SBK&INTRON&SKH&IKOBKB BV&BMC&SKG&KIWA&TNO, Norway SIN TEF, Poland ITB, Portugal LNEC Slovenia ZAG, Spain IETc c&ITeC, Sweden SITAC, Switzerland EMPA, Türkiye ITBAK
Tel:+86 25-8658 3475 +86 25 8658 3465
Website:http://www.hksmartps.com http://www.cprce.com
Email:info@hksmartps.com
Wechat:firetesting or 177 1418 9018
……
Previous: No content
Next: No content